Artist Statement
"Through interpreting the underlying geometries nature is using, I find structures that are incorporated into the work. Through design, spontaneity & intuition a resonance is developed that allows the "soul" of the work to emerge."
Roger White Stoller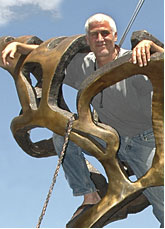 1963-1980
From an early age Stollers' worldview was shaped by his mentor, the world-renowned global thinker and futurist, R. Buckminster Fuller. In his early 20's he accompanied Fuller as his personal assistant, working on Synergetic Geometry and architectural / geodesic projects throughout the world. This led to the fortunate meeting of the sculptor Isamu Noguchi, Fullers' close friend. Working in and around Noguchis' studio (the two men shared an architectural office in Noguchis' building) left an indelible impression. The spirit of Stollers' work was kindled out of his relationships with these two great men.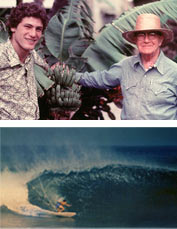 1978–1981
After completing his general education requirements at Chapman Colleges' World Campus Afloat and California State University, Sonoma, Stollers' formal training was accomplished at the prestigious Art Center College of Design, receiving a Bachelor of Science in Product Design in 1981.

1982-1996
The following 15 years included the founding of the design firms Stoller Design and Praxis Design Associates, both involved in product development for corporate clients (furniture, electronics, computers, cameras etc.). While working in the field he taught Industrial Design at San Jose State University from 1987–1992 and 1998–2000. Being part of the fast pace, high stakes world of product development provided an intimate understanding of the materials and processes used to create highly complex objects. This discipline requiring the blending of the sculptural, functional and human qualities of the everyday things people use proved to be a rich background from which to approach sculpture as fine art.

1996–2001
Coming out of a period of deep soul searching with the realization of the limitations inherent in the corporate design world, he sold his share of Praxis to his partners and formed Stoller Studio, Inc., diving completely into sculpting. Being immersed in the casting of bronze, forging of steel and carving of stone brought Stoller into what he referred to as "a most intimate connection with nature and myself." In this period of discovery he developed many of the original ideas still being explored and refined in his work today.
2001-Present
Stoller sculpts full time out of studios in Portola Valley and San Jose California. He works in collaboration with a highly skilled staff of design and art professionals, structural engineers and specialists brought in on a project basis. The Studio's ongoing production includes public art, fine art works and applied art commissions [functional works]. Studio methods range from bronze casting & stone carving to 3-D computer modeling & waterjet cutting, combining the best of old world craft with modern technology.